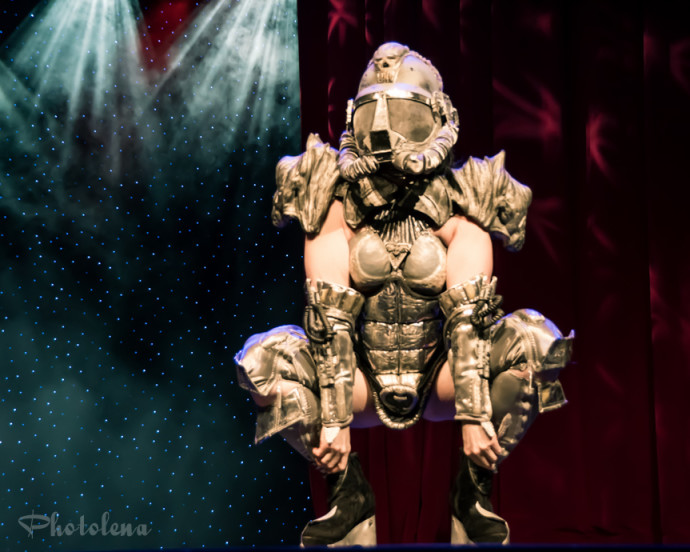 Burlesque Hall of Fame Weekend 2016: Icons and All-stars Showcase
Sunday, June 5, 2016
The Orleans Showroom, Las Vegas, NV
It's the Sunday evening Icon's and All-Stars Showcase and all I can think is "Holy crap, I can't believe I survived another year of this glittery fabulousness that is BHOF!" From beginning to end it's just been 24/7 non-stop performances, safaris, bowling, classes, glitter, pasties, gowns, and of course the amazing after-parties with circus acts, dancing and killer drinks.
There's definitely a more relaxed feeling in the air for the Sunday show. Everyone knows it's the last day; the competition is over. We know we're going to be entertained by some fabulous showstoppers pulling out all the stops, and do they ever! That's why this is the perfect night for Ernie von Schmaltz and Victoria deVille to host— they're just the right combination of glamour and camp for the evening.
Imogen Kelly wowed us with a transformational piece using a special aerial sling that took her from adorable inchworm to stunning butterfly with grand silken wings. Koko La Douce had us listen in on her phone conversation with not only her pussy, but also her poor neglected ass, and I had a hard time shooting photos through my tears of laughter. Kristina Nekyia performed the act that I fell in love with the first time I saw her perform, this time as an homage to Trixie Little— her fetish act "Physical" that had her making her way across the stage using crutches with her legs fully enclosed in braces.
Pillow gave me all the nerdlesque feels with her armor-coated space performance, while Tigger!, oh man, what can I say? This year he really brought the house down with his act. Scroll down to the gallery and check out the photos…. I'll wait… yeah, that's right. Kind of like Liza modeling the Derelicte line in Zoolander. It was beautiful! Every detail in that costume perfect— from the smeared lipstick and tarantula lashes to the newspaper mini.
As always, Russell Bruner reminded me why I love men who can dance— and this time he also sang! I sure as hell had no idea the man had pipes. Gorgeous Roxi D'Lite performed a sassy number that included bubble gum and a sexy smoky cigarette as props. That lady is perfection on the stage— gorgeous, beautiful costumes, and she owns it. To say that Ray Gunn performed would be an understatement— he put together a big group number that had great performer after performer coming out and getting naked up on that lucky stage.
Midnite Martini just gets better and better at those silks every time I watch her perform and this time was no different, with some truly fabulous twists, poses, and falls (I made all those terms up). The step down number from The Original Twins bordered on seductively incestuous. Those gorgeous boys went through their lives on stage, from babies in diapers watching cartoons, to young men discovering their sexuality, all through beautiful dance and lifts, while stripping each other down in the most seductive way. It was so hot watching it unfold on stage I heard someone near me say "They're not really brothers, right?" And there it is.
Enjoy the gallery!
Check out all our Burlesque Hall of Fame coverage to date, and the list of 2016 winners.
Don't miss the Beat. Subscribe.