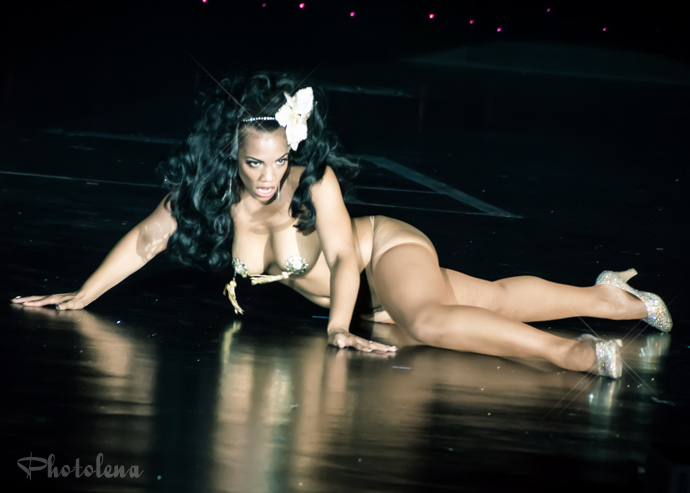 Burlesque Hall of Fame 2016 26th Annual Tournament of Tease: Miss Exotic World, or: QUEEN
Saturday, June 4, 2016
The Orleans Showroom, Las Vegas, NV
So here it is — the final writeup of the 2016 edition of the Burlesque Hall of Fame showcases. Before we get into the big finale of who performed and won Miss Exotic World 2016 The Reigning Queen of Burlesque (such a mouthful!) I have to say that I had the best damn time this year at BHOF! It's not like any other festival I've been to, with something great to participate in or see pretty much all day every day for the entire long weekend.
So how about those great ladies who competed for the crown? Let me give you a little rundown of their amazing acts and you'll see why, as with every year, I'm so glad I didn't have to pick a winner.
Gin Minsky, tap dancer extraordinaire, brought her "Waiting for the train" act to the competition. It's one of my absolute favorites, showing us there's more than just one way to pass the time away waiting for your train. I love the use of the old travel stickered suitcase as a pedestal for her tap as she morphs from summer breezy dress to glitzy Art Deco flapper attire just in time for her train to whistle into the station.
I was taken back to my youth with Iva Handfull's fabulous fashionable ode to Patrick Nagel. With Duran Duran's Girls on Film as appropriate accompaniment, she swapped out from one iconic colorful costume to the next, stopping to pose within 3 large silver frames on stage. I felt like I was at a photoshoot for the cover of Rio — it was all gigantic shoulder pads, neon colors everywhere while lights flashed all around. I was in heaven!
Lovely Vicky Butterfly brought to the stage the act that reminds me most of her name — her LED-lit silken wings performance. It's a gorgeous performance, with the LED lights pulsing to the music and even changing colors from white to blue to purple even. It makes sense to do the act in almost complete darkness on stage for best effect as the true striptease here lies in the glimpses you get of her body in the glow of the LED lights, but really the focus of the act is in the lyrical movement of those giant wings. Congrats on being Most Dazzling — no surprise there. 
Stunning Di' Lovely burst onto the stage in a burst of energy, shimmering across like a glittery disco ball in her silver glam fringed dress. So much sparkly! This gal was intense — spinning, shimmying, doing drop splits and back bends like they were going out of style. I've seen very few performers keep up that kind of energy for that long and look like they could go on all night. It was intoxicating — and so much glittery silver, from dress to bra right down to pasties.
I have only seen a couple of feather fan acts that I have found truly breathtaking — Michelle L'Amour's was my first — and I admit to really loving those grandiose, trailing, tribute fans that remind me of angel wings. Bonnie Fox, one of my BHOF favorites, had just such a set of fans for her Grecian act. It was gorgeous and dramatic — the fans being used both at the beginning and end of the act, for the intro in full costume to the outro in pasties and jeweled accents. I loved the little touches like the titillating yet classic one-shouldered Grecian costume and the statuesque posings. 
New to me, Violet Eva had a great act with her gigantic purple boa. She definitely know how to use it to tease not only by wearing and pulling but also with floorwork. Her gown was beautiful — a beautiful deep pink on the outside with a surprise lining that matched her boa. That was a really nice touch — kind of like matching your shoes to your purse. And holding a standing split, leg high up in the air — nice! That's some great endurance and acrobatics.
A well deserved standing ovation was given to Jeez Loueez who had the sexiest, sultriest, hot damn smokin'est number of the evening. Letting her gorgeous hair out, she performed a dirty bump 'n grind with a ginormous boa that looked to be bigger than her! In true Jeez Loueez fashion, the act was both seductive and at times comedic, her unique charm showing through, especially when she used the straps of her gown as a stand in saxophone. As expected, the act was full of fabulous jump splits and acrobatics that left the audience wanting so much more.
I was happy the first time I saw Aurora Galore perform at BHOF in the Debut category and this year she was back competing for Queen with a new colorful and creative act. With her signature dance style — one I can best describe as a burlesque-twerk cross (check out her videos, it will give you a much better idea) — her act was all green and yellow tulle which matched beautifully with her hair. I loved the big flouncy dress and it really accentuated the type of chaotic movement, the spins and jerks across the stage, of her act. She made great use of the entire stage throughout her striptease, ending with a great split.
The 2nd runner up of the evening truly deserved the title. Sweetpea rocked the house in a gorgeous and super sexy purple costume that flowed everywhere — huge sleeves and wide pants. With Welcome to the Jungle in the background, you knew it was going to be a hot act, and when she stripped down to sparkly studded bra and… kneepads? Well, you knew something awesome was going to happen. This lady had some of the best floor work of the night, using those knee pads to their fullest, doing shoulder stands, shoulder leg splits and regular splits. Amazing!
The 1st runner up of the evening brought the house down with her moving act dedicated to the 20th anniversary of the end of the Bosnian war. As a survivor of the war, Sarajevo's Lada Redstar told the audience about the horrors of the war and not becoming a victim, then opened her large white cape to make it into a projection screen for footage of war-torn Sarajevo. It ended with the words "You will not defeat me." She opened her cape to reveal a gorgeous white and grey gown and headpiece of doves. She took off the panel skirt to reveal a blood red lining. Her performance concluded with another projection of doves and national flag and she told all of us to be rebels. "Power to the peaceful!" How true Lada! A great piece of activism burlesque with an important message for everyone well deserving of 1st runner up.
All hail the Reigning Queen of Burlesque 2016 — the amazing Poison Ivory! Talk about an act full of energy, sex appeal, and va-va-voom all over. Coming on stage in the prettiest of white and gold pouffy dresses, made all the more pouffy with a crinoline. I think this was the first time I've ever seen a performer use a short skirt as skillfully as a long gown for spinning, twirling the fabric, or using as a prop itself. She really knew how to tease everyone with that dress, right up until the final tassel twirls. It was fun, energetic, and she had everyone on the edge of their seat begging her to finally give us a twirl. Congratulations Poison!
A huge shoutout to Trixie Little who did a stepdown number even though she had recently been in an accident. It's not easy putting together an act when you've been hit by a car and your leg is in a cast — but that's one of the things that makes Trixie a true professional. She managed to incorporate her experience, bad as it was, and her injury into her act. With a hospital bed on the stage, and a nightstand with her "dead" heels under a sheet, we knew it was going to be a fun performance. Trixie awoke in her hospital bed to the realization that her leg was broken (which it really was) and she proceeded to have a fit — tearing open a pillow in a huge haze of feathers, put on some lipstick, made some crutches out of the headboard slats and showed everyone that nothing can keep her down! Even when the nurses came to take her away in a wheelchair, she lifted her leg high in the air — and gave us a show of her snatch merkin (surprise!). Classy gal!
As always — fabulous hosting by Johnny Porkpie and Blanche Debris, our very own Burns & Allen. OK, this article went on too long so I have to say goodbye from another successful year at the BHOF showcases. See you in 2017!
Check out all our BHOF coverage to date, including the list of winners.
Don't miss the Beat. Subscribe.