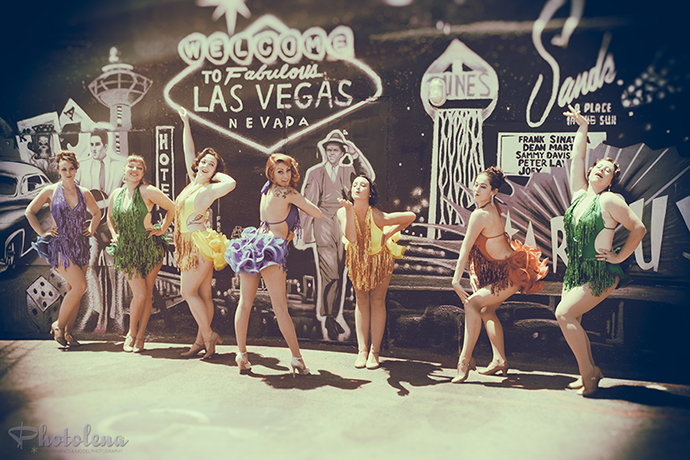 Saturday, June 4, 2016
Various locations around Las Vegas 
Every year that I've had the privilege to get down to the Burlesque Hall of Fame Weekender, I've made it a priority to get tickets — well in advance — for the Pinup Safari. Beautifully organized, as always, by Jason Croft and Chris Beyond and started by burlesque photographer extraordinaire Don Spiro, it's a 4-hour glam-a-ganza full of photographers and models traipsing all over Las Vegas to secret locations revealed only minutes before we head off in our pinup bus.
This year, we had an air conditioned bus — not the usual double-decker heatstroke tourister — and we all appreciated this change (thank you from the bottom of my sunburned heart!). As is tradition, we headed to the "Welcome to Las Vegas" sign (the smaller one) for our first guerilla photo shoot. It's a great spot, with a typical Vegas wedding chapel across the street, big pink Cadillac out front, two walls of murals, and a gorgeous motorcycle to pose on. Alas, this will most likely be the last time we shoot here (maybe?) as someone recently drove into the Las Vegas sign and it's now gone, gone, gone. Figures it was my first year to focus on everything BUT the sign.
We headed out to the Golden Tiki for some indoor shooting for our next stop. As much as I loved this location, the indoor ones are always a challenge for those of us who don't own a flash and are natural light photographers. This place was gorgeous — a huge thatched roof tiki hut in the middle of place for the bar, big clamshell you could lie in, half a pirate ship complete with animatronic skeletal pirates in the back room, and a beautiful rock fountain wall — but it was so dark! But I'm one sneaky little minx and there's no place that I can't figure out how to shoot. I improvised. And the Queen of the Fire Tassels herself, Satan's Angel, joined the party too. It was so fabulous to see her again — it's been a long time!
We usually only manage to get to three locations during the safari, and the final location this year was the Tiki Barn — a private residence with a huge back yard that included a beautiful, cooling pool, as they put it "the biggest cock in Las Vegas" (a giant rooster), a windmill from a mini putt, and even a tiki shack (sensing a theme this year?). I really wished I could get in that pool — it felt like the fires of hell that day, although I'm sure it was only about forty-five degrees. But the girls got right in there, splashing around. I hung around the tiki bar and rooster and tried not to fall into the pool with my camera gear. The house itself was a study in kitsch. There was a room with what had to be over a hundred sock monkeys, every inch of wall was covered with something, there was old vinyl everywhere, but overall the theme seemed to be "monkey."
I can't wait until next year. I know I'll be getting my safari ticket before I even get my plane ticket or my room booked. That's how awesome this event is. It's such a great time — seeing great friends year after year, meeting new people, and getting to do some great photography with both experienced and new models.
Check out all our BHOF coverage to date, including the list of winners.
Don't miss the Beat. Subscribe.