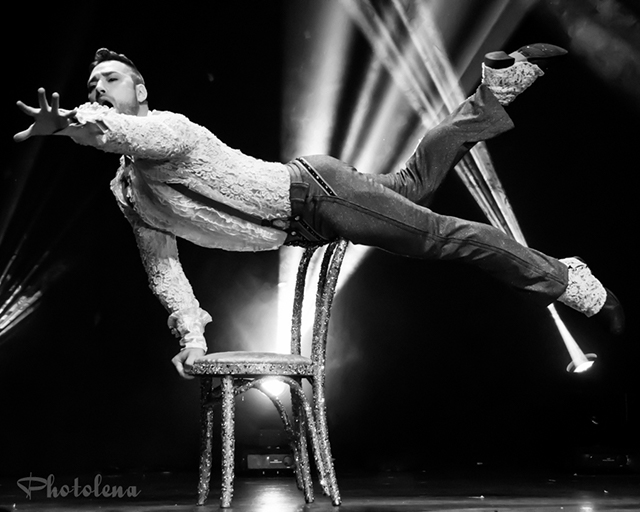 2016 Toronto Burlesque Festival: Mixed Nuts
Friday, July 29, 2016
Virgin Mobile MOD Club, Toronto
It's been a hot, hot summer here in Toronto, and not just because of this gross heat wave that's been blanketing— or really, smothering to be more exact— the city in layers of sticky wetness. The end of July also brings the with it the Toronto Burlesque Festival — a weekend-long joyous, sensual, and creative roller coaster ride into the world of today's neo-burlesque scene.
From classic to nerdlesque, Toronto's scene has embraced all facets of this once underground art form and throws it back in your face to just take a deep breath and ride the glitter high for a couple of days. I didn't catch the first night's show but made it out to night two for the Mixed Nuts review— billed as unique, edgy and experimental. That piqued my interest. Those things are right up my alley. And I was happily surprised with the new faces and performances that I had a chance to see mixed in with the local Toronto area talent.
Some highlights of the evening could not begin without a little writeup about our amazing host Fay Slift, Toronto's own Lady Bear Extraordinaire. Not only did Fay do an amazing job of keeping the entire show rolling— and the audience rolling in the aisles with her hilarity— but her opening number was killer! Wearing an amazing large white gown that took up almost the entire stage, we were surprised when it came apart to reveal dancers, who would go back to hiding as the dress again. The ruffled material was on their backs— so amazing!
Another highlight for me was a new artist (for me at least) who incorporated his extensive hip hop dance background into his vaudevillian burlesque routine. What an amazing act, the fabulous Willie LaQueue from Chicago. I enjoyed it so much I had a really hard time taking photos, having to remind myself to stop putting the camera down to watch the performance. The costume was lush— furs and velvet, top hat and tassels. And the mix of slow seduction and voguing was intoxicating, taking you from one extreme to another. I want to see more of this amazing performer!
Another new one for me was the master of horror burlesque (horrolesque? burlor?), the extremely spooky Red Rum. Known as the "Queen of Halloween" she brought her "Charlie's Angels" performance to the Toronto Burlesque Festival stage and blew everyone away as Charles Manson mesmerizing his female devotees to the tune of "Helter Skelter." As they became more and more enthralled, they not only stripped for him, shaved their heads for him (relax… wigs), but also bathed in blood at the front of the stage. All to his maniacal laughter. Love!
Another big hit for me was Rubyyy Jones, known as the Queen of Queerlesque. Her "Pottyyymouth Princess" was unbelievable and had everyone in the theatre going insane at the end, full on standing ovation. Using the FCKH8.com video as a basis for inspiration she creatively and powerfully dealt with the ridiculous notion of girls as pretty princesses whose self-worth is directly tied to their waistlines who can't every say anything offensive as it's so "unlady-like." Yeah, fuck that! Slipping between Julie Andrews' "I Feel Pretty" and the Pottymouth Princess from the web video made for an empowering performance that resonated with every single person in that room. [Full disclosure: Rubyyy Jones writes for Burlesque Beat. —Ed.]
Another great and edgy performance of the evening that dealt beautifully— and quite comedically— with sexuality and gender (non)boundaries was the act from three powerhouse performers from the Love Letters Cabaret troupe. Knox Harter (a favourite <3), Sweet Rosie Mae, and Madi Kin brought a great drag performance to the stage that had so much masculinity flowing through the MOD Club by the end of it that it felt like you could taste the testosterone particles in the air. You'd think it would be the usual drag striptease, but when they each whipped out a (very realistic from where I was sitting) dildo through their boxer shorts, each one bigger than the other, everyone lost their shit. I mean, they went… Down. To. Here! Oh my! And watching them spend what seemed like an eternity making "whatchyoulookingat?" sex faces at us while they handled their meat was just too much!
The big headliner of the evening was Jett Adore. I feel like you could just leave it at that and people would go "Ahh.. Jett Adore." I can picture it now. Let me just go fantasize for a while, I'll be back in a bit." He's just that sexy, his reputation precedes him everywhere he goes. Let me just say that Jett was Jett in that comedic sensual "oh, did I just turn you on? My bad!" sort of way. But his act really showcased his skills at acrobatics, using a sparkly chair almost as a partner in his dance. And his balancing skills were amazing. That man(ly man, man…) never ceases to arouse… I mean amaze.
So they really weren't kidding about the "unique, edgy and experimental" for this year— and I applaud them and love them for that— fabulous Mixed Nuts show TBF! A big shoutout to those I didn't have room to mention here— but you should have a look at their shots in the gallery below: Betsy Swoon, Betty Quirk, Boylesque TO and Honey B Hind their partner in crime, the Capital Kings, Coco Framboise (who also is the creative head of the TBF) and her big lollipop, Lucky Minx, Pixie Trix, Mitzi Cream, and Regina Dentata. You were all so fabulous and are the reason this festival is such a huge success.
Up next… The Toronto Burlesque Festival Glam-A-Ganza.
Get caught up on all our Toronto Burlesque Festival coverage.