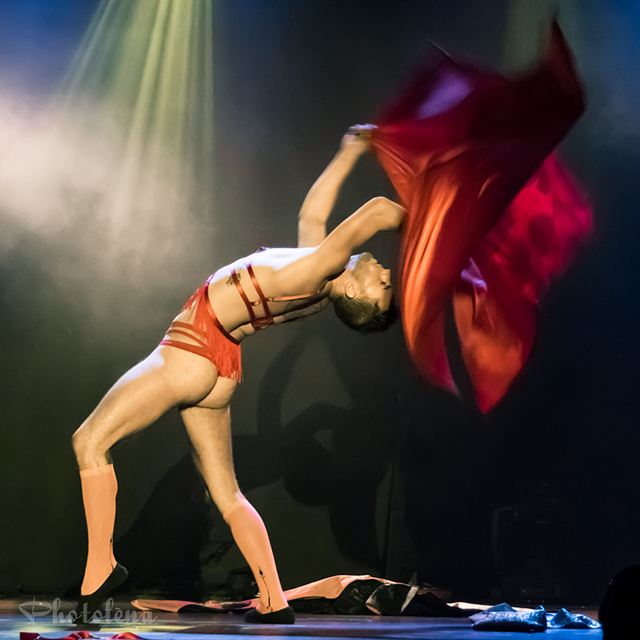 2016 Toronto Burlesque Festival: The Glam-A-Ganza
Saturday, July 30, 2016
Virgin Mobile MOD Club, Toronto
The Saturday of the Toronto Burlesque Festival is always a fun night. It's not a school night, everyone's ready to party… so there's two shows to the evening, and they both have different themes and line-ups of performers. I love this, as many people buy a VIP package for the entire weekend and do a Saturday burlesque marathon, so it's awesome not to have a complete repeat of acts.
This year's early show theme was the Glam-A-Ganza — a "diamond dreamscape of decadence." Perfect alliteration really, considering the caliber of acts on stage for the evening. I have to say, *all* the acts were dazzling. As always, I'd love to describe each and every one in detail but I'll have to just give you a taste and you can enjoy the gallery afterwards (and then go see these amazing acts!)
If you've ever seen Toronto's Obskyura perform, you know this amazing gal takes burlesque to the next level, mixing in performance art, social commentary, and dance in one great explosion on stage. Two things: not only was her performance a spectacular ode to vintage glamour with a gorgeous feather fan routine, but she also performed the act with a dislocated shoulder. That's fierce dedication to your art. She still gave a killer striptease, working with two fans, sensually removing layer upon layer of golden costuming without any of us knowing about her arm. Thrilled to have you back on stage!
Ottawa's Koston Kreme is one of my favorites since wayyyyy back. I'm always excited to see her perform in Toronto and this year she just blew everyone away with her Norse Goddess routine. Bathed in purple light and crowned with two huge curling horns, she came out on stage in flowing purple sheer fabric with gorgeous matching purple bluish feather fans. It was a dark, sexually charged act with plenty of skin teasing with strategically placed fan movements. You were always looking for more and more, glimpses giving the impression of complete nudity — skillful teasing at its best. Fabulous act!
Toronto's DD Starr is a performer I've been photographing and writing about for a couple of years now. She's really developed a beautiful style that is very "DD" and comes through in all her acts: they're detailed, meticulously crafted, visual treats, and perfectly choreographed. And somewhere, sometime during the set we'll get to see sparkling "DD" somewhere. Starting off in a stunning black duster, she danced and teased the audience in front of the full set of blood-red curtains that eventually opened to reveal a vintage clawfoot tub full of bubbles. The end of her act was a sexy romp in the tub, lit up only by a large set of wooden DDs and a small spotlight, bubbles flying everywhere.
Another great act came all the way from Seattle. I haven't seen Jacqueline Hyde perform since my first ever burlesque festival in Montreal. I was drawn in by her energy on stage and have been hoping to see her perform again every since. What a treat to see her again on the Toronto Burlesque Festival stage. The lighting for the act was a bit dark, but that seemed to be the issue for the entire evening based on the overall comments. It made it a bit hard to see from further back and to shoot so I don't know if I really got to enjoy the storyline as much as I hoped until I was able to get to my photos. The large duster was beautiful and it really had a vintage feel to the act. Please come perform in Toronto again, Jacqueline.
There was an aerial component to this year's TBF. This time it was a duo act with Dew Lily and Suki Tsunami taking to the silks hanging down into the VIP section of the floor. Dressed identically in black, with black fishnets and boots and both sporting a long braid, they took turns up on the silks, regaling the audience with acrobatics and poses. Dew and Suki make a great aerials team — they complement each other in style, skill, and overall look. More aerials in burlesque, please!
One of the early show headliners was too good to be true — Ray Gunn of the Stage Door Johnnies. I've seen him perform at many different festivals and it was great that the act he performed at the TBF was one I hadn't seen before. His props for the act were two rows of four chairs spread out across the width of the stage, and a cigarette. He used them all to his full advantage. The cigarette never went out as he performed acrobatics across the chairs, moving from one end of the stage to another, taking pieces of his costume off as he used the seats to do headstands. There's something about seeing a guy in combat boots, sock garters, pinstripe shorts and matching vest, sparkly tie, and all those sexy tattoos, puffing out smoke as he calmly relaxes between seat tumbles. Mrowr!
Two words: Medianoche + bustle. Yep, she was the second headliner of the evening. If you've seen Medianoche perform, you know how stunning her costumes are and this one — I call it the lion tamer — was no exception. Complete with black hat and read feather, it had a beautiful cage bustle underneath that was just uber sexy. Love anything like that: cage bustle, cage skirt, you name it. And this is one gal who knows how to draw out a corset unlacing to drive the audience crazy. Such a class A professional in her art.
A big shoutout to our host for the evening, SMB, and to all the fabulous performers who thrilled us with their craft whose acts I didn't get a chance to go into: Bobby Barnaby, Mandarine Moon-Fly, Coco Framboise (you know how fabulous you are, right?), Sassy von Straddler, Sassy Ray, Arabella Allure, and Karter Banger. And thanks to all the organizers, volunteers and stage kittens. Check out the gallery for everyone's photos.
Up next… the late show: Stars of the Screen  
Have you checked out all our Toronto Burlesque Festival coverage?