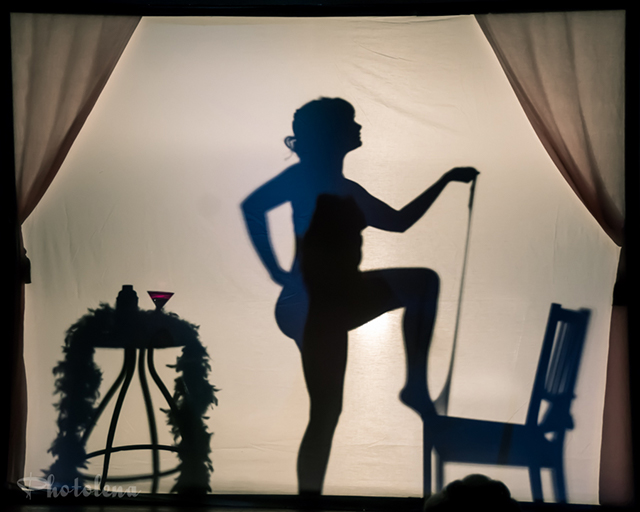 2016 Toronto Burlesque Festival: Stars of the Screen
Saturday, July 30, 2016
Virgin Mobile MOD Club, Toronto
Although the Toronto Burlesque Festival ran until Sunday, the late show on Saturday was the last one I could catch this year and I'm so glad I did. What a great theme — Stars of the Screen. It was the best of both big and small screen and the acts were all based on pop culture that had everyone going "Oh man, I didn't think that could be made into such an amazing burlesque act!"
The theme even came through with our hosts, SMB and Laura Desiree, who seamlessly took us from act to act as star-crossed theater-goers getting to know each other better through the kinds of movies and TV shows they liked (or didn't like) to see. Here's the quick TV Guide version of some of the acts that they chatted about:
Fresh Prince of Bel Air
Now this is a story about how, Zyra Lee Vanity turned burlesque upside-down… This amazing Toronto performer found a perfect way to bring the iconic 90s show to the stage by wrapping herself in the graffiti from the opening credits of the show. It was on point, head to toe perfection.
Pee-Wee's Big Adventure
There's nobody out there that does Pee-Wee Herman better than Toronto's own Dolly Berlin. Not only does she have his mannerisms down pat, his facial expressions perfected, but she can Pee-Wee Dance like nobody's business. And there's nothing sexier than seeing that dance in a grey suit fringed bikini and knee-high white high-heeled go-go boots.
Zoolander
I bow down to Dottie Dangerfield for her TBF performance this year. I profess a guilty pleasure in watching Zoolander over and over just so I can see Mugatu and his Derelicte fashion line. I never thought I'd see Mugatu as a burlesque performance, but Dottie was perfection, from the costume, to the hair, to the makeup, right down to asking for a drink and spitting the water in her assistant's face.
My Little Pony
…or really, My Little Brony. I've seen a lot of MLP burlesque performances, but this one from Dr. Orifice was exceptional. The hard hat with the pony mane mohawk, the fur chaps, and the glitter beard were all great. But what really pulled it together was the magical wand that he had that changed the running lights on his hard hat and chaps from one bright colour to another. It was a rainbow of pony love!
The Exorcist
The movie that made me afraid of my bed and attic for almost a decade when I was a tween. If you had told me that one day I would see Regan's famous bedroom scene as a burlesque act I would have said you'd lost your mind. But there she was, Starlotte Satine, puking up ribbons, doing that upside down crawl that still gives me nightmares, and basically doing a pretty convincing sexy possessed. I loved this act so damn much!
Buffy the Vampire Slayer
Buffy, then Angel, then True Blood, then Supernatural… it was the show that started me on this vampir-y, supernatural-ish path. It was great to see Virginia Legs get up there in her Sunnydale High cheerleading costume, trusty Mr. Pointy at the ready. Her wonderful striptease was interrupted by a vamp, but no matter. She took care of that in right quick in tru Buffy style.
Star Trek
In the most unique performance of the evening, Bianca Boom Boom performed a fabulous striptease as Spock. But, like really Spock. Unemotional, logical, matter-of-fact Spock. It was the most deadpan burlesque performance I have ever seen. She didn't just manage to never crack a smile, she also never made eye contact with the audience. It was disturbing and it was brilliant!
Zorro
One of our headliners for the evening was Jett Adore. The "No-Pantser Romancer" brought his Zorro routine to the TBF stage. As with all his acts, no matter how many times you see them, there's always something changed, something improved upon, something new to make you love it even more. I think this routine really brings out the best of his silly sexy style and has the most tease of all his acts. With the big sparkly Z on his back and the sparkly reveal (won't give it away) at the end, you can't help but fall in love with him all over again.. and again… and again.
Classic Burlesque
I was introduced to the beauty of Dirty Martini at the first Toronto Burlesque Festival I ever attended oh so many years ago and I've done my best to catch every single performance I could ever since. Her act at the TBF on Saturday evening was classic burlesque at it's finest. Just a simple panel skirt, gloves, bikini and tassels. There were no layers to go through. It was all about the dance and the tease, those curves we all love so much, the seductive moves across the stage. It was vintage glamour on that stage and we all were bathed in its beauty.
I wish I could fit more into the write-up but there was just too much amazing stuff going on to capture it all in words. Luckily there's a great gallery you can check out. But I would like to congratulate Coco Framboise, Sauci Calla Horra, Ava Noir, Brook Alviano, and Charlie Quinn for all their amazing work putting this yearly burly-fest together. And kudos to all the performers I didn't get a chance to mention: Mimi Violette, Honey Rider, Charlie Quinn, Zilly Lilly, Sky Blew, and Rubie Magnitude.
See you all next year!
Have you checked out all our Toronto Burlesque Festival coverage?