In this installment of Ribald Rhythms, I'm gong to discuss my five quintessential "burlesque" albums. "Burlesque music" is hard to classify and it's a challenge to write this because so many musical genres are associated with burlesque. Still, there's a general understanding of what a burlesque band should sound like, typically based on the burlesque pit-bands of the 1950s. Those bands played R&B with a "bump & grind" rhythmic pattern and wailing saxophone but even in the so-called "golden era" of burlesque, burlesque featured different musical genres.
Check out my accompanying mix.
 Disclosure: if you purchase anything via the product links in this piece, we get a commission.
I'm sure I'm excluding albums many feel are essential. I may also feature records that may not fit what some would consider the standard burlesque canon. Regardless, these are records that I have seen performers dance to over the years and I felt each one represents a different aspect of the "burlesque music" that's out there today.
Number Five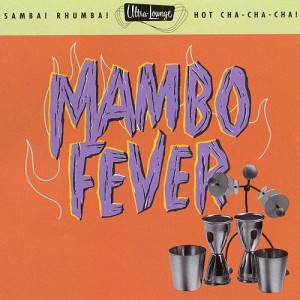 Various Artists – Mambo Fever: Ultra Lounge, Vol. 2
 (1996 Capitol Records) Lots of great releases in the Ultra Lounge series but this one has managed to stay in my mix for 20 years. I don't hear this much in burlesque performances these days but I wish I heard it more. Latin music was featured regularly in golden age burlesque shows eager to exude an "exotic" vibe. Cuba's mambo-beat had the perfect rump-shaking rhythms to get those tassels twirling. While these versions lack some of the raw power of Perez Prado's recordings, their kitsch makes them a welcome addition to any burlesque performer's collection. If you can still find this, get it!
Number Four
Yann Tiersen – Amelie from Montmartre
 (2001 Virgin Records) When I was performing with burlesque performers in the early 2000's, songs from this soundtrack were a common request. This might have something to do with me being an accordionist and us largely performing in a venue called the Can Can but, regardless, Tiersen's whimsical accordion and piano led compositions made this the ideal music for any performer hoping to capture a Parisian/cabaret vibe. I would recommend this less for the bump and grinder and more for the cabaret/cirque-inspired performer. Yes, this album reached a nauseating level of over-exposure in every Parisian-style cafe across the country, but it holds up and is still, I feel, an essential release.
Number Three
Various Artists – Pink Flamingos: Original Soundtrack – Special 25th Anniversary Edition
 (1997 Saliva Films) John Waters — the patron saint of neo-burlesque and missing link between 60s trash culture and the 70s punk underground. The music eombodies the raw, raunchy vibe of the cult classic's characters. Kicking off with Link Wray's "The Swag," which is followed by The Centurions "Intoxica" it's in full swing two songs in. Throw in Little Richard's "The Girl Can't Help It" (World Famous BOB's theme song) and Lavern Baker's "Jim Dandy" and you got one of the best collections of obscure R&B, rockabilly, garage rock and 60s pop out there. John knows his music and all his soundtracks are worth a listen. Honorable mention going to the Hairspray and Pecker soundtacks.
Number Two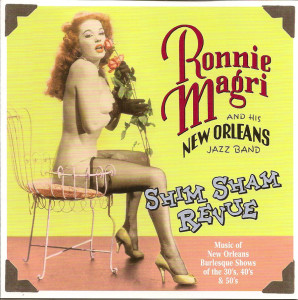 Ronnie Magri and his New Orleans Jazz Band – Shim Sham Revue- Music of New Orleans Burlesque Shows of the 30's, 40's & 50's
 (2002 Self-Released) The real deal. Ronnie did a significant amount of research, including conversations with folks that were actually there, to discover what was played in Bourbon Street clubs during the heyday of New Orleans burlesque. He also put together a crackin' band. There are jazz standards like Ellington's "Black & Tan Fantasy" but also original compositions written exclusively for the dancers. The best example is "Oyster Girl," written for headliner Evangeline the Oyster Girl and not performed since the 1950s. Not only that, it was never recorded! Check out my interview with Ronnie in the first installment of Ribald Rhythms to find out more about this incredible story.
Number One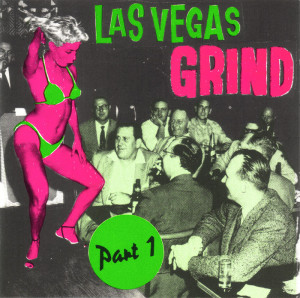 Las Vegas Grind Part 1 by Various (1992-08-21)
(1992 Strip Records) There were multiple volumes to the Las Vegas Grind series but the quintessential release is Part 1. This was the first record I owned that would be considered "burlesque music." While most of the bands on this release were probably not actual strip-club pit bands, it's easy to imagine them playing in one. Combined with raunchy cover art and song titles like "The Strip," "The Whip," and "Drums A-Go-Go" (my personal favorite) the connection was obvious. This album would go on to supply the soundtrack to the early neo-burlesque shows that I went to in the mid-90's. It remains a burlesque standard.
I've included a mix featuring cuts from each of these releases as well as a few others that you may not have heard. Look for the second part of my interview with Ronnie Magri coming up in the next installment of Ribald Rhythms.