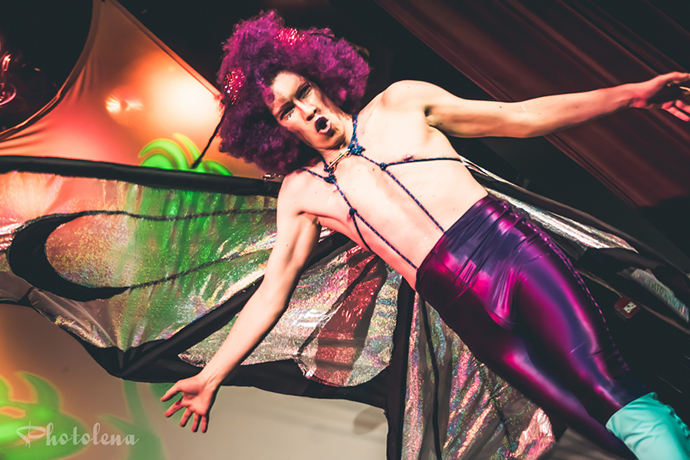 September 17, 2016
The Great Hall, Toronto, Canada
Pokemon — not just a mobile game that's taken over the world this past year, but also anime cartoons, TV shows, and even films that have kept us captivated since the mid-90s. So it was natural that Toronto's premiere theme burlesque troupe, PeepShow TO, would take this on as a full burlesque revue.
Fabulous host Velvet Valhalla kept the action moving from character to character as our Pokemon trainer. Egging us on to yell at the characters behind a screen, Velvet would give us clues as to which Pokemon character we could expect (I got half of them right, not bad!). With a collective should of "I choose you!" the screen would raise to reveal which one was available for capture.
It was great — almost all performers didn't just do a single character. Their acts included all the upgrades for their character with the striptease morphing them from one level to another. Check out the gallery from the show and how these amazing performers pulled off these really complex characters:
Bulbasaur/Ivysaur/Venusaur –

Saffron St. James
Caterpie/Metapod/Butterfree

– Sky Blew
Charmander/Charmeleon/Charizard

– Poisonne
Evee/Jolteon/Flareon/Vaporeon –

Dolly Monroe/Henrietta VIII/Delicia Pastiche
Goldeen/Seaking –

Dottie Champagne
Magikarp/Gyarados –

Veronica Vile
Mew/Mewtwo

– Charlie Quinn
Pikachu

– Sevvy Skellington
Ponyta/Rapidash

– Zilly Lilly
Venonat/Venomoth

– Betty Quirk
Vulpix/Ninetails

– Maria Juana
I wish I had photos of these guys, but the lighting just wasn't cooperating on these acts. Sorry:
Cubone/Marowak

– Tits Ahoy
Sandshrew/Sandslash

– KK Darko
Awesome show guys! I knew that if anyone could take video game/anime characters with no dialogue and turn them into real acts with substance it would be you guys. Blown away and impressed as per usual.
Enjoy the Pokemon gallery below…