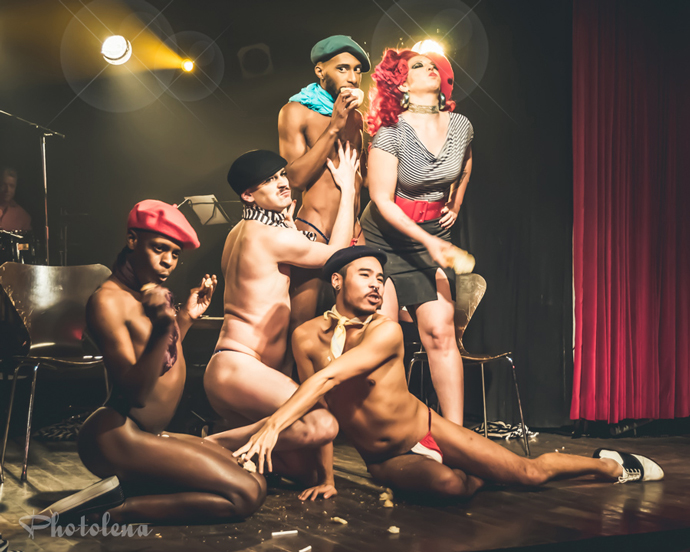 February 14, 2017
Revival Bar, Toronto, Canada 
There are a couple of annual holiday shows that you can count on Skin Tight Outta Sight Rebel Burlesque to put on, and I thank my lucky stars that Valentine's is one of them. This little lady thinks there's nothing finer than spending the holiday of hearts sipping cocktails at a moody nightclub while watching the best of Toronto's burlesque and boylesque do their thing.
This year's Voulez-Vous Valentine show had a fabulous Parisian starving artist theme that really resonated with me. With hosts SMB and Tanya Cheex channeling artists from 1960s Gay Paree, they stitched the different acts together with a story of a photographer and a his muse just trying to make it in the city of love. With nods to French New Wave Cinema and Brigitte Bardot, great jokes about how photographers don't make money (that hit home) and working for stale baguettes, and way too many mimes it all came together perfectly.
On to some highlights of the evening…
I keep forgetting that Sauci Calla Horra from Skin Tight Outta Sight not only can dance ballet, but can also go on pointe. She performed a gorgeous ballet/burlesque piece for the show that started out quite classic — beautiful pink beaded gown and corset and pointe shoes — and finished off with quite the comedic flair. She was joined on stage by Dew Lily as her begrudging assistant. He didn't want to touch her, hold her costume as she tossed off pieces, or even pick her up for her grand jeté. He looked truly disgusted but she kept her cool the entire time. It was superb. 
It was great to see CoCo La Creme of Skin Tight Outta Sight on stage again. It's been quite a while for me and she's truly great. That gal has so much energy — and she never stops grinning from ear to ear throughout her acts — she loves being on stage! As always, he act was a frenzy of action, from peeling off her gorgeous pink and black duster to wrapping herself in long strands of pink fabric to finally showing us the glittery kiss on her butt.
Boylesque TO performed a number I'd seen before, but it really suited this show as the theme was a Parisian cafe. The boys started out by snootily sipping on their cappuccinos, pinkies raised of course, and quickly moved on to posing, supermodel style, while stripping down to their French flag inspired G-strings. Skin Tight's Honey B Hind, in perfect Paris attire, came on stage to nibble on Mahogany Storm's "baguette for a dick" and then the gang joined in, ripping it apart. What a sight to see!
Honey B Hind, who truly does have a honey of a behind, gave us a super sultry performance all in red for the holiday — from her red hair, to her red costume, to her red pasties. And really, the striptease is half the performance — sure, the sexy glove peels and corset unraveling make your heart race — but with Honey B Hind, you see and get so much more from her facial expressions. That gal has got her "O" face down to an art. All throughout the performance, her expressions are making you think that this is the best, the most amazing, the most satisfying thing she's done — ever! Honey, you give good face.
Did I mention how much I hate mimes? The final act was called The Mime of Mimes which came out as The Meme of Memes with SMB's horrendously funny French accent. Yes, a bunch of mimes on stage for the finale. I hate mimes. It's not you, guys, it's me. They're always stuck in a box. (But it was a funny closer.)
Great job Skin Tight Outta Sight Rebel Burlesque and Boylesque TO as well as everyone involved in the production of the show at the Revival Bar. And kudos to those I didn't get a chance to mention in the writeup — all the acts were great: Aviva the Mirage, Foxy Finale, James and the Giant Pasty, Big Rude Jake, and Wrong Note Rusty. Due to lighting, I wasn't able to get great photos of some of the acts — I do my best and I'm sorry if yours isn't in the gallery.