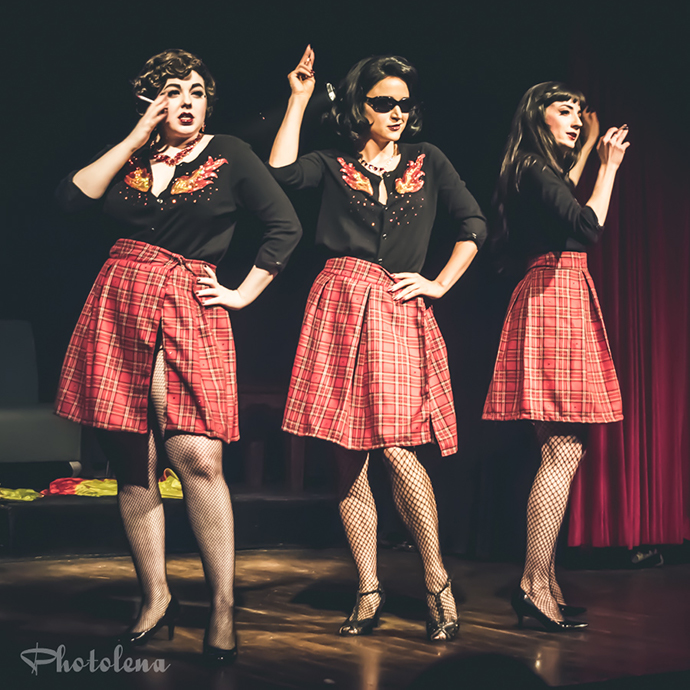 April 9, 2017
Revival Bar, Toronto, Ontario
With Twin Peaks returning to screw with our heads and our hearts next month, it seemed like kizmet that I'd be checking out the burlesque tribute to David Lynch's masterpiece cult hit. And who better to put on Fire Strip With Me than Toronto's own nerdly-themed troupe, Peepshow T.O., whose hits have included Hanna-Barbera, Pokemon, and next month's Simpsons show.
Groovy bespectacled, eccentric psychiatrist Dr. Lawrence Jacoby (Ginger Darling), took us seamlessly from one act to another as he walked us through the storyline and introduced us to the people living in our version of Twin Peaks.
At the Double R Diner we met up with Annie Blackburn (Betty Quirk) and Shelly Johnson (Dolly Monroe) and their unique brand of waitressing. Such coordinated gals, those two, right down to their fringed satin "Damn" & "Fine" sparkly blue short shorts. I think I'll have me some of that damn fine coffee and a piece of cherry pie!
We snuck a peek through the bedroom window of lovely Audrey Horne (Loretta Jean) to see what she was up to. So angelic in her burgundy kilt and sweater, so innocent with her hemline at the knee. Who knew she had all that fire in her? Is that her One Eyed Jack's outfit — a beautiful white corset with red bows and white stockings, and a matching white duster? What a tease.
Heading over to the Palmer household, we were shocked to find Bob (El Toro) climbing out of Leland's reflection. What a hellishly scary dude. Wild gray hair, crazy eyes, going all out Manson on us. I almost couldn't watch… almost, but dude's got a great bod on him and stripping is stripping. Bring it, evil and all. But it was like watching a psychopath strip. Sexy and scary at the same time. Just can't look away like a deer caught in the red tinted stage lights.
As soon as we could, we got out of there and headed over to check out the sawmill and ran into Josie Packard (Leelando) looking quite smart in her black pantsuit with purple stilettos. And sexy under the suit as well, with a maid's outfit coming off to reveal the tiniest, itty bittiest waist in a corset I've seen in a long time. So tiny.
Jacoby then introduced us to Lucy Moran (Bunny Buxom) who wanted to show us her new dance routine that she was convinced would win her the Miss Twin Peaks contest. It was quite the routine. With her blonde curls flying through the air, she looked adorable dancing across the stage in her black sparkly leotard, jacket and fishnets. Quite the shock when she licked, very slowly licked, the straps of her outfit to drop them and reveal pasties. Not so innocent that Lucy.
Back at the Great Northern Hotel, Special Agent Dale Cooper (Willy Wonder) had the best check-in to his room. After a quirky but methodical striptease, with each piece of clothing getting equal attention, Audrey came by with some of that fine Double R Diner cherry pie. It's so fine, that feeding it to him by hand and smearing it across his chest turned into the preferred method of pie delivery. Cherry pie, all over the nearly naked FBI agent. Thumb's up Cooper.  
We head over to Nadine Hurley's house (Francine the Lucid Dream) but as always, she was too busy checking her drapes to notice us. But what about that pink gown? Was that her dress for the Miss Twin Peaks Pageant? There was a lot of pouffiness going on there – good thing she took it off and relied on the talent portion of the contest, lifting weights and cheering with her baton in her matching pink leotard. What a gal!
We've been told we should go see Bureau Chief Gordon Cole's mother's sister's girl Lil (Seedy Edie) who had a message for us. Unfortunately, it's given to us an interpretive striptease dance and makes no sense. Something about blinking eyes, a hand in her pocket meaning there's something being hidden, her sour face was something about problems with local authorities. I dunno, this interpretive burlesque is beyond me. Damn cute with her red hair and matching outfit. Then that flash of blue underneath!
It was nice to have a break at the Roadhouse and getting some much needed relaxation from songbird Bianca Boom Boom. What a voice on that gal. Almost makes you forget about all the troubles in Twin Peaks. Almost.
We couldn't leave this idyllic forest town without a visit to Maggie the Log Lady (Zilly Lilly). Boy does she love wood, that one. I've never seen anyone so attached to a piece of future furniture. To get such sensual and sexual pleasure from a log, that's pretty special. Who knew that under all that bulky and burly wool was a woodsy fetish queen waiting to emerge. What you do with your timber in your own home, is your business log lady!
Congrats to everyone at Peepshow TO and all those who were part of the show and made it happen. Now to go catch up on the old show before the new one launches!
Great show as always, guys!