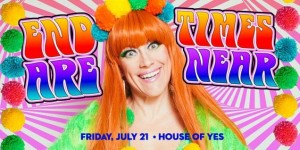 Trixie Little and Eric Schmalenberger present End Times Are Near Cabaret
Award-winning acrobatic burlesque superstar and professional provocateur, Trixie Little, and her clown about town apprience and gardian of the cosmic portal Eric Schmalenberger have the answer to the world's woes!
Leading a brilliant and bonkers variety show, the charismatic leader of the Cult of the Radiant Depths, the end of the world never looked better! Drink the Kool-Aid and prepare yourself for cosmic, cathartic, comedic OBLIVION!
With a smorgasbord of special guests!!!
including!!
Tiger Bay
Fancy Feast
The MaineAttraction
and
Edie Nightcrawler
Doors at 7pm | Show at 8pm
21+
::::::: Community & Accessibility :::::::
This is a space for everyone to feel welcome and loved. Racism, sexism, ableism, ageism, homophobia, transphobia, xenophobia will not be tolerated at our House. All entrances and spaces within the venue are single-level and handicap accessible. Gender neutral bathrooms are located in the main room.