When:
December 17, 2017 @ 9:00 pm
2017-12-17T21:00:00-05:00
2017-12-17T21:30:00-05:00
Where:
House of YES
2 Wyckoff Ave
Brooklyn, NY 11237
USA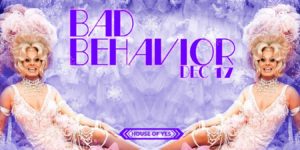 House of Yes, Eric Schmalenberger and Steven Klavier present:
Bad Behavior Party
FREE all night with RSVP: http://bit.ly/2A4X7bV
CALLING ALL: QUEERS, QUEENS, DANDIES, KITTENS, RAD FAE, NANCY BOYS, SOFT BUTCHES, HARD FEMMES, GODDESSES, and THE REST OF YOU WONDER HUMANS to the DANCE FLOOR
Tonight this house is YOURS. WELCOME BACK TO BAD BEHAVIOR!
Fire up the filth, turn up the trash, and bring us your most glamorous garbage – we want it ALL at Brooklyn's chicest party!!!!
Find desire, satisfaction, and disorientation on an endless dance floor.

We are bringing back our darlings JD Samson and DJ Sammy Jo who will rain down all the hottest of jams for you to groove to.
In addition we have some surprises in store for you that are making us just week in the knees!!! STAY TUNED!!!
JUST CANCEL THE REAL WORLD and WELCOME TO THE FANTASY. Crash into a stranger, find a dark corner, and make a new friend of the best (or worst) variety.
GET REAL, GET CUTE, and GET DOWN!
Because good gurls may go to heaven, but bad gurls go everywhere, so throw on your finest disco-Dollywood frock and lose yourself in the lights and madness.
The future is tasteless. There is no better time than now for some Bad Behavior.
::: Music :::
JD Samson ~ https://soundcloud.com/jd-samson
DJ Sammy Jo ~ https://soundcloud.com/dj-sammy-jo
Photos by Kenny Rodriguez Event Photography
21+
Behave with beauty, connect with intention.
We are obsessed with CONSENT.
Always ASK before touching anyone in our House.
Anyone who cannot follow this simple rule
will be escorted to the sidewalk.
::::::: Community and Accessibility :::::::
This is a space for everyone to feel welcome and loved. Racism, sexism, ableism, ageism, homophobia, transphobia, xenophobia will not be tolerated at our House. All entrances and spaces within the venue are single-level and handicap accessible. There are stairs leading to the upper portions of the stage, for those who wish to dance in the spotlight. Gender neutral bathrooms are easily located throughout the venue.