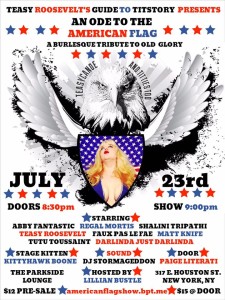 TEASY ROOSEVELT'S GUIDE TO TITSTORY PRESENTS: AN ODE TO THE AMERICAN FLAG!
Get out your notebooks (and your dead president$) for an American history lesson you soon won't forget!
Teasy Roosevelt and friends ARE BACK as they time travel to the past, present, and future of American history, this time, paying tribute to Old Glory herself!
The American flag has many meanings to many people. An Ode to the American Flag is a show based on just that: interpertation, representation, and most importantly, the power of artistic expression.
"Buy the ticket, take the ride,." – Hunter S. Thompson
STARRING:

Abby Fantastic
Darlinda Just Darlinda
Faux Pas le Fae
Matt Knife
Regal Mortis Burlesque
Shalini Tripathi
Teasy Roosevelt Burlesque
Tutu Toussaint
GOGO & KITTEN: Kittyhawk Boone
MANAGING THE DOOR: Paige Literati
MASTERING THE MUSIC: DJ Stormageddon
And featuring Lillian Bustle as your HOST!
$12 PRE-SALE ONLINE till July 22nd: http://americanflagshow.bpt.me/
$15 AT THE DOOR DAY OF SHOW
SUNDAY, JULY 23rd!
DOORS AT 8:30pm SHOW at 9:00pm!
*Are you a performer? Email teasyroosevelt@gmail.com for $5 off ticket price with a discount mobile flyer!
——————–
What are audiences saying about Teasy Roosevelt's Guide to Titstory?
—–
"This is what Nic Cage was searching for in National Treasure."
—–
"Not what I was expecting. Really weird. Really powerful."
—–
"I'm glad this show exists. Also, I miss Obama."
*All ticket sales are non-refundable*