When:
December 27, 2017 @ 6:00 pm GMT0
2017-12-27T18:00:00+00:00
2017-12-27T13:30:00+00:00
Where:
Rockbar NYC
185 Christopher St
New York, NY 10014
USA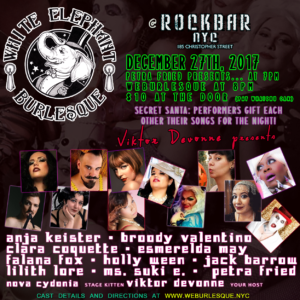 CELEBRATING VIKTOR & ROB GETTING MARRIED!
CELEBRATING 150 SHOWS AT ROCKBAR!
6pm – pregame – music by DJ TatMatt
7pm – Petra Fried drag cabaret performance
8:30pm – White Elephant Burlesque: Secret Santa Edition
10pm – hangout/party – music by DJ TatMatt
Viktor Devonne presents White Elephant Burlesque at RockBar NYC … $10-20 pay what you can.
12/27 cast: Falana Fox | Anja Keister | Broody Valentino | Petra Fried | Esmerelda May | Holly Ween | Clara Coquette | Lilith Lore | Ms. Suki E | Jack Barrow | stage kitten: Nova Cydonia … hosted by Viktor Devonne
drinks: Jason and Joey
the usual f.a.q.
1. what time should I get there? happy hour is from 6pm-8pm if that tells you anything! we go on at 8:30pm. Petra Fried starts around 7pm — we recommend you come early for her to whet your whistle.
2. what does "pay what you can" mean? it means if you can pay more than $10, we appreciate it. support local artists. patronizing the bar, buying raffle tickets, and simply cheering the performers on is also appreciated. if you only have $5, we'd rather you still come in.
3. are there boys in this? are there girls in this? this is an all-genders burlesque show. you're going to see everyone. we change sets every week so it's a new experience every time.
4. when is the show over? we usually end around 10pm. the bar closes at 2am.
5. what is dress code? comfortable. fierce.
6. how do I tip performers? we have a bucket at the front of the stage. also, you may tip the performer directly as they leave the stage. we discourage handing money to the performer mid-performance, as most acts are choreopgraphed, and our hands are busy taking it off. a designated stagehand, known as a stage kitten, is also on hand, and will pass on tips for the performer. tips provided during intermission and curtain call help keep the show going.
7. do I need to make a reservation? no, but we do encourage early arrival to ensure optimal view and seating.
8. no, really, does this start at 8:30 or can I be late? we start between 8:30 and 8:45.
9. I want to work with you. that's not a question. but you can message the facebook page, or email Viktor, or talk to him at the show and discuss upcoming gigs. we're looking for charisma, talent, and punctuality. stage kitten gigs can also be arranged via the aforementioned communication methods.