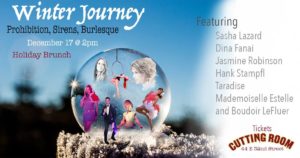 Hyper, holiday, and energetic, Speakeasy Moderne presents "Winter Journey: Prohibition, Sirens and Burlesque Brunch!" Come follow the journey of Boudoir LeFleur into a magical world where you will meet classic characters you know and love….and each beloved character like you've never seen them before.
This vivid brunch will feature: Sasha Lazard, Dina Fanai, Hank Stampfl, Taradise, & Mademoiselle Estelle
Expect the show to elevate off the stage into your lap. Sing along to familiar Holiday songs, classic show tunes and today's hit music. "Let It Snow, Let It Snow, Let It Snow", "Oh Holy Night", "Jingle Bells", "All I Want For Christmas Is You" and more. After all, what good is sitting alone in your room?